Look at what I found!
The other day, I happened to go to Food4Less. At the front of the store, they had a bunch of marked down leftover Easter flowers. Most of them were white lillies, which were already full in bloom and semi wilted. They had some daisies and other stuff as well.
Just as I was about to give up, these caught my eye: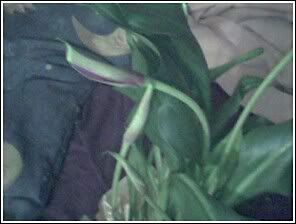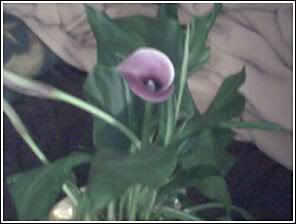 Purple Calla Lillies. The only plant left, too. As you can see, only one was really blooming [not even a full bloom], and there were a few other buds. I figured it was worth the $10, and I could nurse them back to health and continue to healthily grow them.
I'm excited about these, because now I have something in my face to really motivate me. In fact, I am setting my alarm right now so I can get up and work out back. I need it.
I've flexed my cooking magic muscle all weekend, and I showed what I was made of in that area, now it's time to put some love into my goal of a garden.
Lush.
Abundant.
Those are my goals, right?
It's Spring! I need to live. I'm so SICK of this lifestyle.