Log #6: What's The Story, Morning Glory?
The story starts right here in this pot: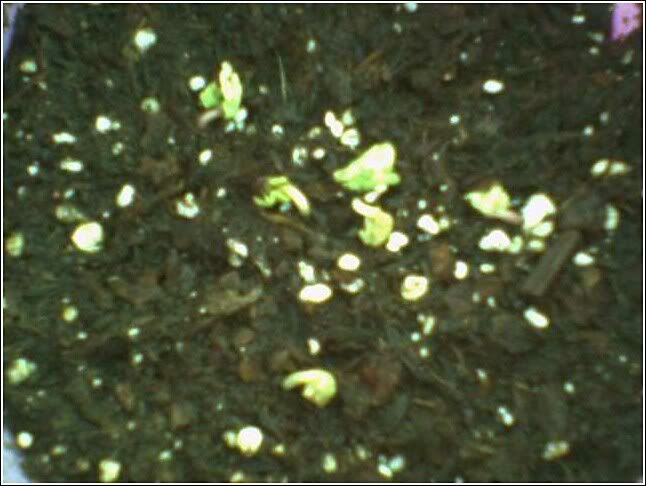 These were planted
May 6th
, but were soaked for 24hrs previously, and then softly rubbed a bit with my nail file, and today, they popped up! I hope they do not regress like my Marigolds did.
Also, in the big tray I talked about, one of my
Marigolds
is starting to sprout.
This has really made my day.
My other trays, I uncovered them as well, since it seemed to work well for my other seeds.
My
Bleeding Hearts
are doing just great, and my
Fuchsias
are blooming nicely.
My
Roma Tomatoes
haven't seen much action, but I don't expect any for a while.
One of the two
rosebushes
out in the front has a bloom on it.....pink -gag- We have too many pink flowers out there, and the last color I like roses in is pink, unless it's a pale pink, in which case these are not.
Also aslo! I snipped my
Calla Lilies
back quite a bit. There were just little stumps in the pot. Inside of the stubs, new stems are starting to grow! I am really please with this as well.
-squeal-
Edit
2:50pm:
I just went out to check on the trays to make sure the sun wasn't drying them out, and WOW! My
Morning Glories
actually grew more! AND there's another
Marigold
that popped up!!